Drill Bits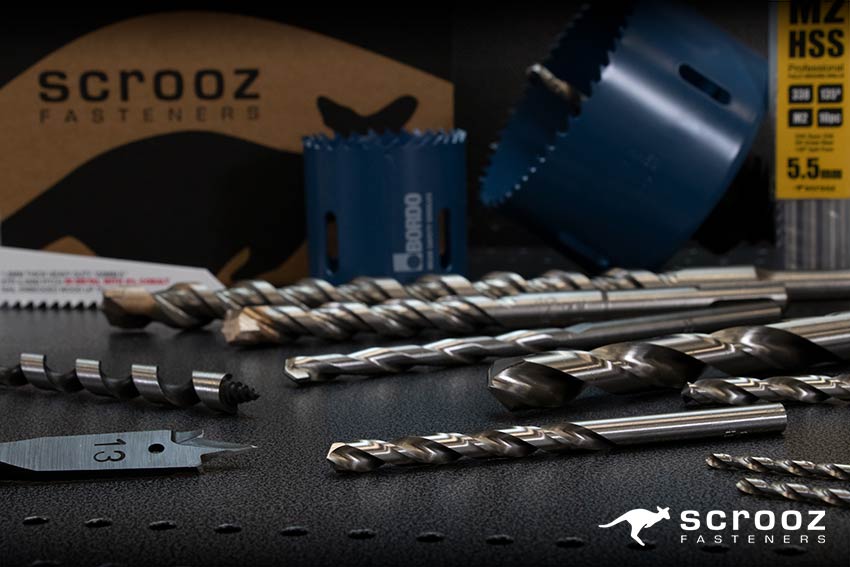 Drill Bits For Metal and Wood Overview
HSS Multi Purpose Drill Bit

HSS wood and metal drills are our range of high speed steel jobber drill bits. These drills will drill all mild steels, hardened steel, soft wood, hard wood timbers, plastics and any other material with the exception of masonry based substrates. Please refer to the main page for more specific information
Our range of HSS titanium coated drill bits are precision ground for extremely high performance. The reduced friction created by the tin coating means these drill bits can last up to 3 x longer than non coated drill bits and up to 10 x longer than rolled drill bits. Often called jobber drill bits these are the most universal and popular style drill bit in our range. They can drill through a variety of hard materials such as ferrous and non-ferrous steels, hardened steels, wood, plastic and other general construction materials.
The 118 degree precision split point allows the drill bit to grip instantly resulting in higher precision, accuracy and significantly faster drilling speeds. Our drill bits have been designed with specific performance features required to enhance productivity, lifetime, speed, efficiency and customer value. All HSS drill bits are manufactured in Denmark to European standard DIN338.
Flat Spade Drill Bit

Flat spade bits drills are for drilling large holes in timber or plastics. Often referred to as wood, spade or dowel bits, these spade drill bits are made from extra hardened steel with toughened shanks. Features a central point and two raised spurs to keep the drill bit straight when operating. The curve spurs also help with timber chip clearance during drilling, particularly when drilling larger sized holes, this also reduces resistance when drilling which increases the efficiency and battery life of your handheld power drill. The faces are precision ground for higher performance and feature a quick chuck fitting for fast and easy bit changes whilst on the job site.
Commonly used by electricians and plumbers whilst running electrical cable or plumbing pipework. Our range of flat spade drill bits are exceptionally priced. For use with, soft woods, hard wood, composite boards and any general construction timber substrates.
Hole Saws

Hole saws are for drilling usually even larger holes again. We carry an extensive range of superb quality bi-metal cobalt hole saw drills for use in a wide variety of applications. We also offer a range of mandrels to suit all power tools and drill types. These can be used in steels ferrous and non-ferrous, cast irons, a large range of timber products and all plastics.
Brad Point Drill Bit
Brad point wood drill bits are a type of HSS drills above but with an added centre point. These are predominantly used in fine wood working as the sharpened angle points product less timber chipping than standard hss and the centre point prevents drill 'walk'. Our range of brad point drill bits are precision ground, making them perfect for use in dowelling, cabinetry and other woodworking applications where an exact sized hole is required. The cutting spurs around the centre point reduce splintering and provide smooth, clean exit holes with no blowout in the material. These are specifically for use in timber applications.
Drill Bits Metal and Wood Features:
All our hss wood and metal drills are individually vetted and tested for quality and performance
Multiple manufacturers overseas and in country. HSS jobber drill bits are manufactured in Denmark
All products manufactured to German specification DIN 338
All our ranges are priced very competitively
All sizes in stock in large volumes. We hold significant stock in our drill bit ranges.
Most products available in single units and then also bulk cartons for bulk buyers that offer increased savings
Drill sets and kits available for most products within the range
We do also stock a full range of hammer drill bits for masonry drilling that you can find in the masonry drill bit category
Drill Bit Categories:
We stock an extensive range of drill bits for metal and wood, you can browse the range by:
Select a category using the filter system, use the image infographic menu, use the top level menus or use the links down below..
---