Razr Decking Highload Screws Merbau
all categories in Decking Screws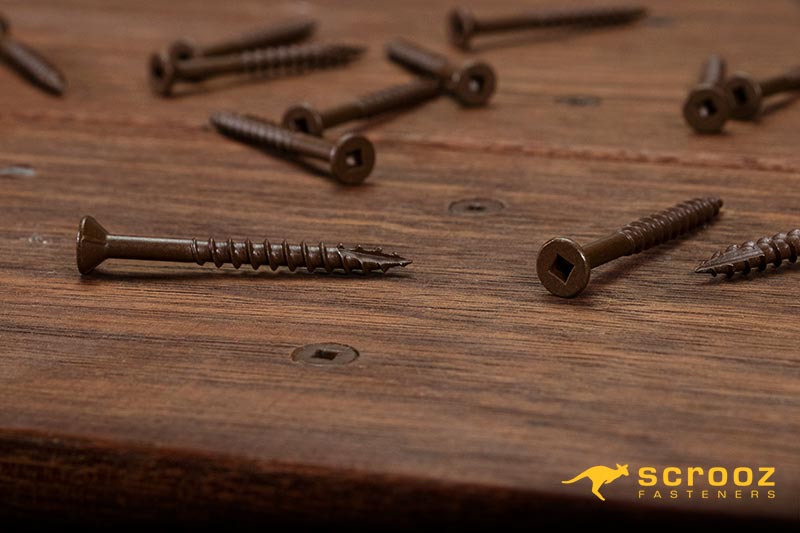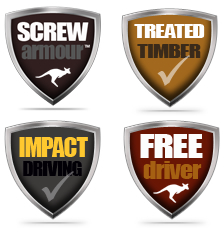 High performance ceramic coated Merbau color matched decking screws from our High load range.
Scrooz Razr Deck High Load decking screws are manufactured specifically for customers looking for a tough, cost effective solution with great anti-corrosion properties, they are made from high grade carbon steel which is case hardened and then coated in our rock hard multi-layer 'baked on' Screw Armour coating in an appealing bronze finish to match your decking timber, lasting well over 6 times longer than any galvanised finish and with twice the strength of stainless steel screws they are a 'fit and forget' fastener that won't snap or suffer driver tear-out, and you can use them anywhere in any timber including ACQ and CCA pressure treated wood.
High Load is a fully hardened fastener and therefore doesn't flex as much as softer stainless steel, therefore we don't recommend using them on decks which are liable to more than 8mm movement in any direction, Razr Deck Stainless is your best option here.
Scrooz Razr Deck High Load Merbau Screws feature :
Merbau multi layer ceramic coating.
Countersunk self embedding ribbed head and a No2 square drive recess for a solid drive connection that won't slip or tear-out.
Free driver in every pack, trade and bulk box.
Manufactured from high quality case hardened steel with Screw Armour coating for extreme corrosion protection.
5mm shank with a 9mm diameter head.
Type 17 Razr self drilling fast start slash point for accurate driving.

So is Screw Armour's anti-corrosion properties as good as stainless steel? Well the answer is no coating that will perform as good as stainless steel because the whole fastener is made from it, but it's pretty close and as a 1000hr salt spray tested coating it's far superior than any class of galvanised or other plate finish.
Click to download the tech doc and find out more about Screw Armour

---