Screws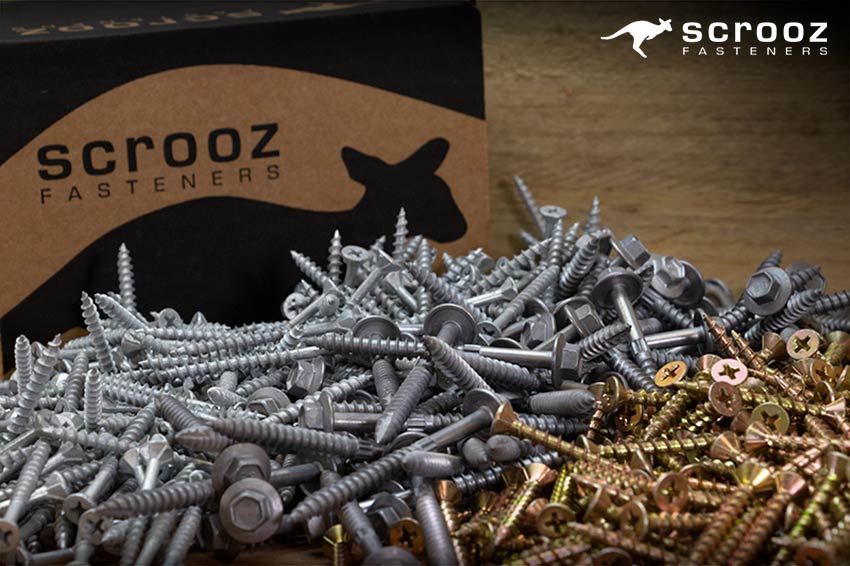 Welcome to Scrooz Fasteners - Screws
Please use any of the navigation points below to navigate through our screws selection, you can browse the range by:
Select a category using the filter system - please filter by subcategory then further screw selections will become available
Use the image infographic menu - this will direct you to main screw categories on our site
Use the top level menus - you can go straight to a direct product category, ie roofing screws
Use the links down below to navigate to any one of our main categories
Screws General
Nearly all our screws have complimentary screw driver bits to fit all powered tools included in the packaging or boxes, this is represented on each screw page by a 'free driver' logo.
Here at Scrooz we've been a manufacturer of screws for over 3 decades, we're absolutely commited to providing the best quality screws to our customers. We've sold and manufactured in excess of 1 billion screws across the last 30 years so you can be assured our screw range is produced with a huge amount of attention to detail and with quality being the largest factor. We currently manufacture our screw range in 4 different countries across 7 different factories and all products are then very well tested in house.
We currently stock 52 different types of screw, wood or metal drilling applications, from tek steel drillers, self tapping screws, standard hex heads, type 17 self drilling to needle points. We also stock over 15 different head types and styles to make sure we've got the right screw for the right job. Be sure to have a good look through our range. All our ranges come in a variety of finishes for differing levels or corrosion and material applications
Our staff are extremely knowledgeable on all things screws so if you have any queries, concerns or any screw related questions don't hesitate to get in touch with us and speak with one of our customer service staff who will be more than happy to help you out
Further product material can be found on each individual screw page including technical documents, finish information and a broader overview of each screw product and what it's used for.
Screws We Stock:
Handy Screw Charts
Please find below some handy screw charts for both screw head types and also screw drive types that we stock:
Screw Head Type Chart Infographic
Screws Drive Types Chart and Infographic
Why Scrooz?
Not only do we carry ranges applicable to nearly every application and material, we also stock a full range of hardware, bolts, nuts, washers and more. One easily accessible market, transparent online price where all our customers gain access to the same exact same prices offered, whether your doing some DIY jobs around the house or your a multi-national construction developer. We stock extremely heavily so you can be sure all our products are in stock when you order. We will have what you need to complete your project. All our products are manufactured to Australian standards and in most cases, we make sure that these standards are exceeded.
We supply everyone from plumbers, electricians, roofers through to large international building developments. At the time of writing this we supply screws, fasteners and all related hardware to more than 50,000 tradies and homeowners alike throughout Australia and growing.
All our screws are available in grab packs and trade boxes right through to bulk cartons and pallet buys for large volume users. Please see individual category pages for full quantity listings and pricing.
---