Self Tapping Screws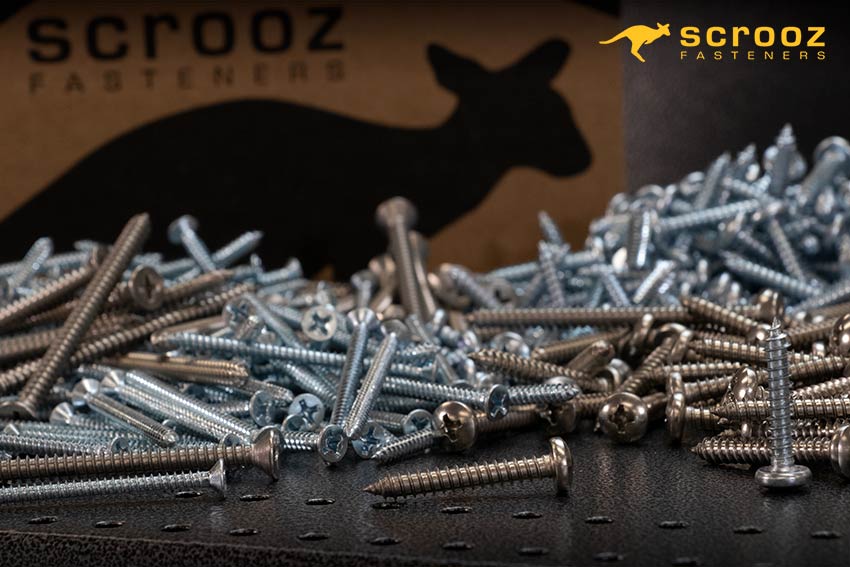 Self Tapping Screws Range Overview
In total we have 4 different styles available of self tapping screw available. We carry self tapping screws in both pan head, countersunk head and the flusher finish undercut countersink in both zinc plated and stainless steel finishes. Undercut screws are generally used for door hinges, window frames or flush mounted bracketry type applications
Self tapping screws are designed for the purpose of 'self tapping' a thread into steel sections, these are technically parallel thread cutting screws often called thread forming screws, sheet metal screws or simply self tappers. This is sometimes confused with self drilling. Please note, these screws are not designed to self drill their own hole into steel sections. A pilot hole must be present prior to use a self tapping screw when used in steel section. Due to the parallel thread design they are particularly useful when stitching thin steel sheets together as the parallel thread can tap into thin steel exceptionally well, considerably better than coarser, more aggressively angled thread types.
Self Tapping Screw Thread Profile
The parallel thread design on a self tapping screw is formed in a way that they will tap their own thread into both the mating surfaces. Once a pilot hole has been drilled, the perfectly flat angle of the threads will tap a thread into both sections and tightly fix them together, hence the term tapping screw. The most common steel based applications are sheet metal or window frames, blinds into steel frames etc. They are also very commonly used in timber to timber applications, steel to timber, plastics, concrete plugs. Anywhere a precise tight fix is required. Self tapping screws are very universal and can be used in pretty much any situation to fix to any substrate.
All zinc plated screws within this range are manufactured from hardened steel.
Types of Screws in this Range?
Self Tapping Screw Gauge Chart
Click the read more text below to see a useful chart with all the self tapping screw gauges in mm, this is useful when determining pilot drill size. Generally pilot sizes should be 0.5mm to 1mm smaller than the gauges listed below, this is just a guide. You can freely use whichever pilot size best suits your application, for thick steel applications you can up the pilot size slightly, for thin steel applications you can use a slightly smaller size.
---