Spring Washer
all categories in Washers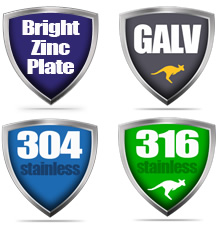 Spring Washer Overview
Spring washers often referred to as a lock washer or split washers are designed to keep bolted or screwed connections tight by locking the head of a bolt or nut to the substrate using friction. The split in the spring washer absorbs the initial driving torque and visually closes under normal bolt tightening. The compensating spring force of the spring washer trying to 'spring' back into its stamped helical shape keeps constant tension on the nut and prevents any movement when under vibration. Spring lock washers provide resistance against the removal rotation of the bolt, helping it to stay in place and apply constant pressure to the bolt to prevent loosening. A spring washer should be used under the nut side of the connection.
If you need to also use a plain flat washer in conjunction with a spring washer, the spring washer should always be positioned directly next to the nut. Spring washers can also be used in conjunction with nyloc lock nuts for maximum protection against vibration, this is very common in automotive applications.
Spring Washers Features
Standard steel washers in hot dipped galvanised finish to be used for high corrosion protection
Standard steel washers in zinc plated finish for non-corrosive environments.
304 standard grade stainless steel for maximum corrosion resistance, common for automotive and engineering applications
316 marine grade stainless steel for exceptional corrosion protection in coastal and exposed environments.
Available in a range of size to suit nearly any application.
Huge stock volumes available
Suitable for use with all our bolting products for construction, engineering and general purpose applications. Please find the chart below for all lock washers dimensions.
Spring Washers Dimensions Chart
Spring Washers Internal and External Dimensions Chart
---