Nyloc Locking Nuts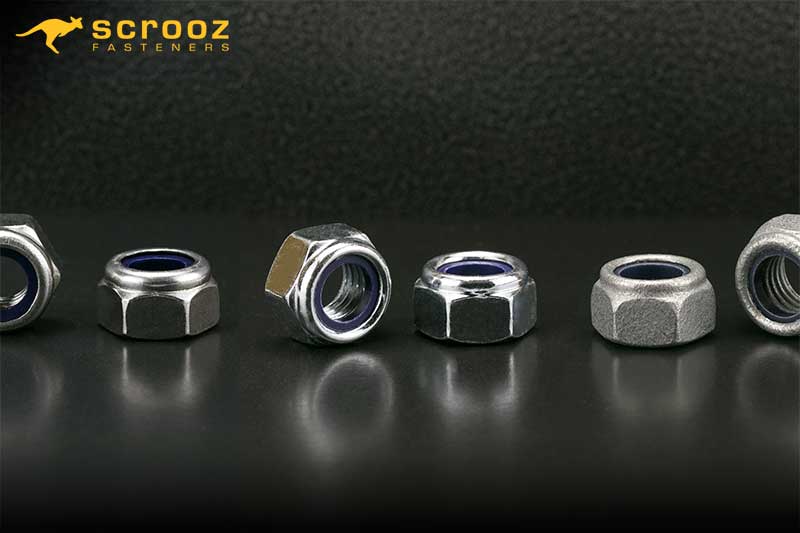 Nyloc Nuts Overview
Nyloc nuts in high performance grade 8 high tensile steel in zinc plate or galvanised finishes for standard and premium corrosion protection.
A Nyloc nut is a standard hex nut with the addition of a nylon insert, the nylon insert deforms over the bolt thread as the bolt is tightened up, causing a large amount of friction and essentially locking the thread into place. These are commonly known as lock nuts or locking nuts. We recommend the use of a nyloc nut on any component or fixture that is likely subject to vibration. The nylon insert is slightly smaller than the inner diameter of the hex nut and corresponding bolt, during installation you will feel a large amount of resistance as the nylon insert deforms over the threads.
A nylon insert lock nut should not be used more than once, when the locking nut has been used, the nylon portion will be fully deformed and we cannot guarantee the structural stability for any future uses. For any applications where excessive vibration is likely to occur, particularly automotive applications, couple a lock nut with a spring washer or a nylon thread patch for increased vibration resistance and improved thread locking ability.
Also available in 304 stainless steel for long life and maximum corrosion protection, and marine grade 316 stainless steel, suitable for exposed conditions, or use around salt water.
Suitable for use with any of our standard, high tensile or stainless steel bolts and threaded fasteners.
Nyloc Nut Features:
Made from grade 8 high tensile steel in zinc plated and galvanised finishes
Available in bright zinc plate, galvanised, 304 stainless, and 316 stainless steel finishes.
Hexagon shape - 6 sided for use with suitable size spanner
Our nyloc nut range is manufactured to European Standard DIN 985

Metric Coarse Thread Pitch Chart For Nuts and Bolts
---