Diamond Blades Turbo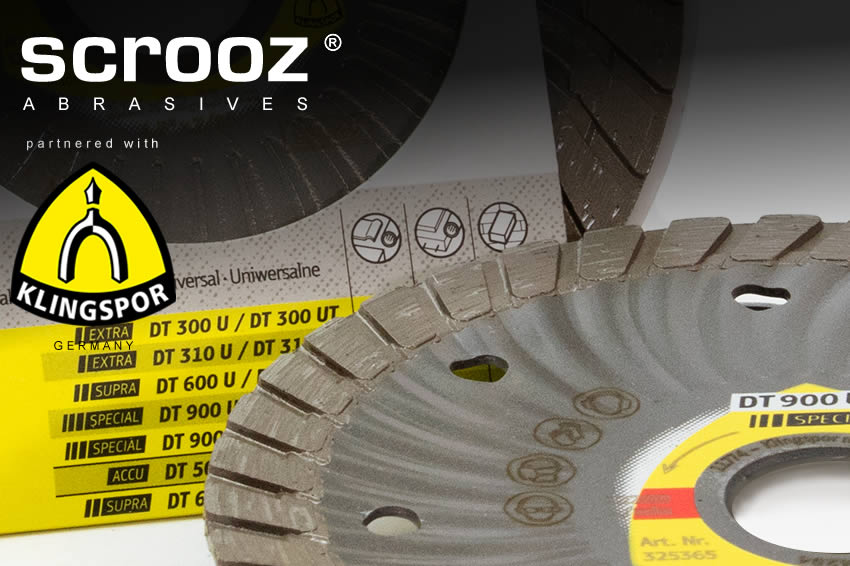 What is a Turbo Diamond Saw Blade?
High-performance long-life diamond cutting blade by Klingspor. Specially engineered for effortless cutting through nearly any type of material cleanly at a high speed thanks to Klingspor's turbo rim. This closed cutting edge produces clean and chip-free edges, with a minimal noise design. A Turbo saw blade is really in-between a continuous rim blade and segmented blade both in terms of cutting speed, cutting aggressiveness and materials they can be used on. Generally a turbo blade is the most common as they can cut in any material including solid slabs and other very abrasive masonry substrates. If your not quite sure which type of diamond blade you need, you can't really go wrong with the turbo blades.
Long life usage is due to titanium-coated diamonds bonded securely in the blade, keeping them from detaching prematurely. These razor-sharp crystal edges smoothly work their way through even the toughest mineral-based materials until they are worn out completely.
The wave-shaped core ensures high performance heat dissipation in either wet or dry cutting, along with holes embedded in the blade to provide additional cooling.
What materials can I use them on
Tiles
Natural stones
Granite
Clinker
Concrete
Aerated concrete
Roof tiles
Masonry/Brickwork
Chalky sandstone
Firebrick
Refractory brick
Screed
Asphalt
Where do I use them
Klingspor Diamond Turbo Cutting Blades are designed for professional use in large variety of applications and is the most universal blade on offer. These blades will effectively cut everything from tiles and stone to solid concrete. Situated right in between the segmented and continuous blades in terms of overall aggressiveness these blades can be used for all cutting applications and suit anyone looking to cut a large variety of substrates with a single blade.
Get The Tech

Who is Klingspor
Klingspor is a market leading German manufacturer of high performance coated abrasives and cutting and grinding discs with a enviable global reputation for superb high end professional quality products. Klingspor has manufacturing plants and offices worldwide and technical and product support is available Australia wide if required.
---