Eye Bolts
other categories in this group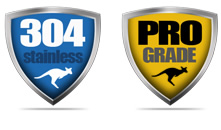 Eye Bolts Overview
Stainless steel eye bolts are used to create a secure attachment point for lifting or securing objects. They consist of a threaded shank with a loop or "eye" at one end. The eye provides a convenient attachment point for hooks, ropes, or other hardware.
Made from 304 stainless steel, they offer excellent corrosion resistance, making them suitable for applications exposed to moisture or harsh environments. The eye bolt is sold as a kit including two washers and a matching hex nut. The washers help distribute the load, while the hex nut ensures a secure connection for easy installation and adjustment.
Eye Bolts Features
Pre-assembled with Flat Washers and a matching Hex Nut.
304 Stainless Steel for superior corrosion resistance.
For more information and product specifics please click any of the products below.
---