Hex Bolts 316 Stainless Steel
all categories in Stainless Steel Hex Bolts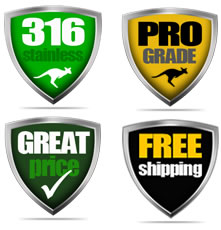 Hex Bolts 316 Stainless Steel Overview
Nuts and bolts 316 strong marine grade for superior corrosion resistance use in construction, engineering and manufacturing.
These nuts and bolts are ideal for fastening metal to metal or metal to timber. Commonly used for fastening where there is access to the rear to install a nut. These stainless steel hex bolts are manufactured from high performance corrosion resistant 316 grade stainless steel. Suitable for corrosion prone applications or locations, such as coastal areas or marine use.
Hex Bolts 316 Stainless Steel Features:
Manufactured to DIN 931 standard.
316 stainless steel for maximum corrosion protection.
Suitable for coastal outdoor bolting of steel and timber.
Bolt lengths are all measured from under the head.
Metric Coarse Thread Pitch Chart For Nuts and Bolts
---