Factory Made Balustrade Assemblies
all categories in this group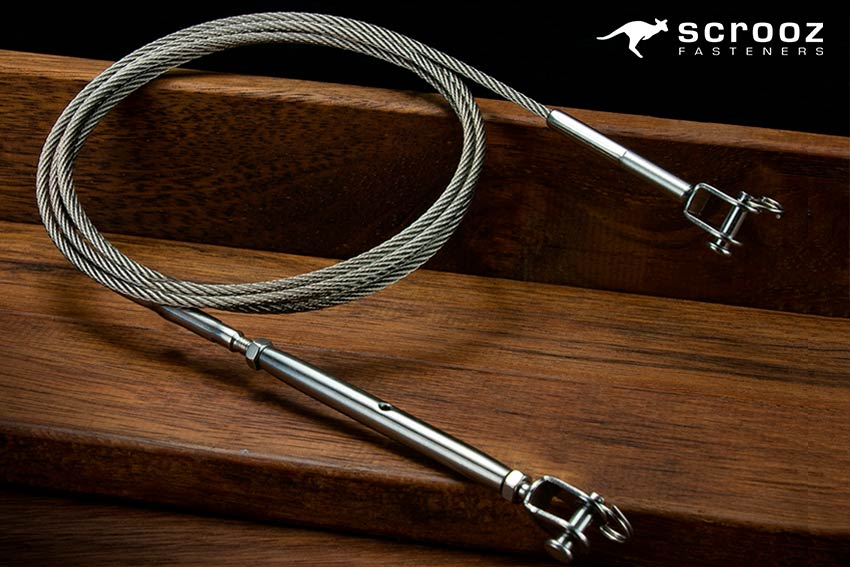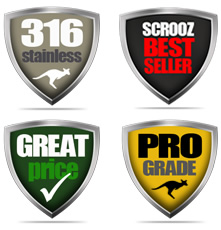 High quality 3.2 mm pre-assembled stainless steel wire rope balustrade kits are designed for residential housing installation to give a professional streamlined finish to your veranda, patio, balcony or staircase. Each kit is supplied pre-manufactured to length (maximum 7m in 1 continuous run) using batch traceable and tested fittings which are hydraulically swaged (pressed) onto your wire, they are fast and simple to install and give you a superb factory quality stylish finish. Any quantity manufactured and shipped within 1-3 working days.
How do I order? Just call 1300 79 44 99 or email sales@scrooz.com.au with your sizes (exact inside post to inside post) and number of wires you need and we'll quote you instantly. We generally manufacture within 24 hours using state of the art computerised machinery and dispatch to your home or job site same day.
What's in a kit? A kit comprises a rigging screw with fork hydraulically swaged on 1 end, a fork end swaged on the other, wire cut to your specific lengths,, you also get 2 x saddle fittings to attach to your posts and 4 x panhead screws 8g x 38mm. All in high grade 316 stainless steel. We'll work out exact tension needed on your wires - we'll also minus from your measurements the distance between post fittings to you get a perfectly cut and swaged length of wire to your direct specification.
How do I fix them? This system is super simple, you will get a complete assembly with all fittings swaged on, you just screw your saddles to you posts, clip your wires on and tighten them up...that's it... should take less than 5 mins a length to install
Features include :
Kits manufactured from high quality marine grade AISI 316 stainless steel components.
Supplied with 316 grade high strength smooth finish 1x19 wire rope to AISI specification.
Suitable for coastal, marine and long service life applications.
Designed for fast, simple installation in timber or steel posts.
Cut and machined on state of the art computer controlled machinery for accuracy and consistency
No special tools or skills required for installation.
Commercial and industrial grade pre-assembled kits also available.
Useful Links and Info :
Get more ordering and measuring info to help you work out what you need HERE
Important note, even high grade 316 stainless steel requires some maintenance so to find out how to look after your new balustrade click HERE
For more information on current regulations and extracts from the BCA click HERE
---