Roofing Screws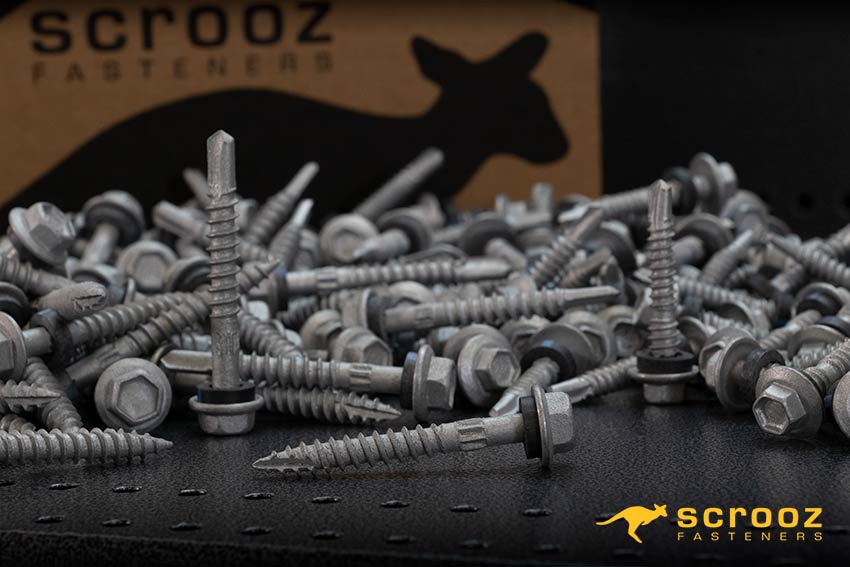 Roofing Screws Range Overview
We stock an extensive range of high performance roofing screws manufactured directly for Scrooz, you can browse the range by:
Select a category using the filter system
Use the image infographic menu
Use the top level menus
Use the links down below..
We stock both a range of timber type 17 points roofing screws for fixing into timber battens and tek point metal tip style roofing screws for metal batten. All our 12g roofing screws come with a 5/16" hex head and our 14g roofing screws come with a 3/8" hex head. All roof screws within the range are suitable for both crest fixing and valley fixing your roof and can be used for both roofing and cladding. We also have a range of nutsetter drivers available for sale.
We also carry a range of Titegrip (sometimes called High Grip) roofing screws, these screws feature a section of reverse thread on the underside of the head which grips the sheet tigher, creating a better join.
Neoprene seals are included on all our roofing screws and cladding fasteners.
All roofing screws within our range are Class 4 galvanised for ultra corrosion resistance.
Click the button below to see our nutsetter drive size chart for all our roofing screws
Nutsetter Driver Size Chart for Roofing Screws
Types of Roofing Screws in this Range?
How Many Roof Screws per m2?
How Many Roofing Screws per m2 Chart:
Please click the button below to see our chart regarding approximately how many roofing screws you will need per metre of roof sheeting when roofing onto timber battens, roofing onto steel purlin, wall cladding into timber battens and wall cladding into steel purlins
Roofing Screw General Features
All our roofing screws are designed to be used with an impact driver and electric or standard screw drivers and are available in class 4 coatings for premium corrosion resistance. 5/16" and 3/8" nut setter driver bits to suit both 12g and 14g roofing screws can be found in our drills and driver category in both single packs and packs of 5. Further product data can be found on each individual category page including technical documents, finish information and a broader overview of each screw product
---