About Scrooz Fasteners


Who are we
We're independantly assessed and certified by Alexa (Amazon) Data as Australia's No1 highest performing and biggest online retailer of premium quality high performance fixings and fasteners, we're an Australian independently owned company with over 30 years international experience in the fixings and fasteners industry and we know fasteners very well.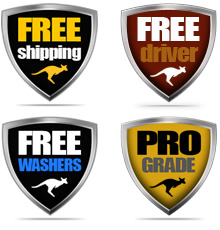 We do things differently at Scrooz®. We're a dynamic, forward thinking company using 'state of the art' design and manufacturing technology and innovative techniques right across our product range.
Our high performance, premium quality range is available in either conveniently sized 'grab packs' or trade/bulk boxes (with bigger discounts). We want to keep our prices as low as possible for you so we avoid 'middle men' profit by selling direct, you can't buy Scrooz® products through any other distributors, or re-sellers, our products are supplied straight from us to you.
Typically you'll find our pricing around half that of a major hardware store like Bunnings or your local bolt shop and we always throw in free stuff like washers, driver bits, T-shirts and shipping on $99+ orders, so you can see why our customers love us and why we're expanding rapidly.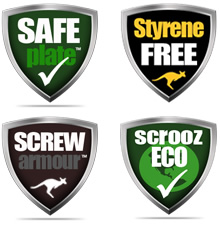 Our range is tailored specifically for Australia. It is made tough to cope with today's high torque power tools and tough structural timbers and includes the latest high performance anti-corrosion coatings to suit the diverse and extreme climatic conditions we face.
We're also thinking about your safety and the environment. Unlike most fastener companies 'who manufacture as cheap as possible', we purposely use high performance multi-layer coatings that are organic and non-carcinogenic (cancer causing) across our range along with techniques and initiatives to reduce our carbon footprint.
So look for our screw armour and safeplate logo's throughout the range, performance is higher, it's safer for you and is kinder to the environment...it's a no-brainer.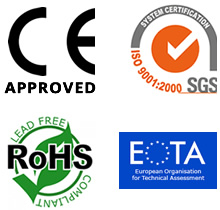 Scrooz products are made to our own high performance specification generally exceeding current Australian standards where applicable or the even higher rated EN ISO 9001 and we even carry the premium and highly prized European Technical Approvals on some of our products. Nothing will go in a Scrooz® box until it has been rigorously tested and approved. Scrooz is our brand, we are proud of it and we protect it vigorously, plus we want you to come back for more so don't worry about quality, we are self policing.
Our range is continually growing with great value high performance fasteners and fixings at super low prices and we have plenty of new and exciting products in the pipeline, so keep checking back or register for updates to see what we're up to.