Nuts and Bolts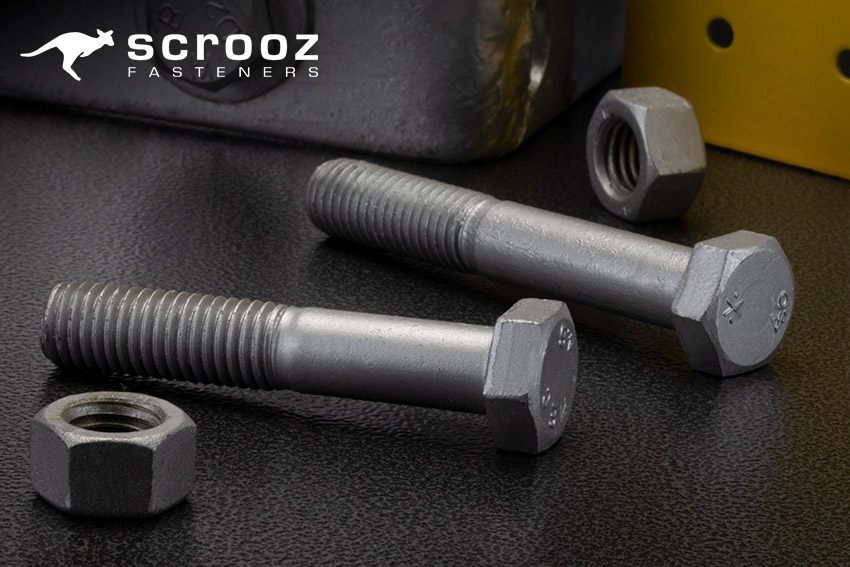 Nuts and Bolts at Scrooz Fasteners
Use any of the navigation points below to navigate through the nuts and bolts selection at Australia's biggest fastener and hardware supplier.
Most of our nut and bolt fasteners come supplied with corresponding nuts, such as most of the hex bolt range, some though, such as our socket type bolts do not come with hex nuts, if the bolt is generally installed into a pre-threaded component or part of an assembly such as machine screws it will most likely not be packaged with nuts, please refer to each subcategory page for more information, in this sub section you'll find all of our nuts, bolts and washers.
Our bolting range covers all sizes including M3, M4, M5, M6, M8, M10, M12, M16 and up to M20 bolts. All bolts are metric coarse thread, we do not at this time stock a range of imperial bolts and nuts.
All our nuts and bolts throughout are range are metric coarse thread unless specified on the category page. All our hex nuts within our nuts and bolts range fit each other, just match the diameter. Please refer to content down below for a clearer break down of the metric bolt and nut coarse thread pitches for more detail, for when you may be fitting into a pre-threaded component.
Our category system is split up into large groups of 7 main bolt categories and further sub categories within those such as washers and individual nuts, please navigate to these and then filter your selections, you can view them by:
Select a category using the filter system
Use the image infographic menu
Use the top level menus
Use the links down below to navigate to any one of our main categories
Nuts and Bolts We Stock:
Bolt and Nut Charts and Info
Metric Coarse Thread Pitch Chart For Nuts and Bolts
Metric Bolts Thread Lengths and Spanner Size Chart
Nut and Bolt Fasteners
All our nuts and bolts are rigorously tested and we can provide material certifications and any technical data to anyone who needs it via request. We offer these by request only as material certifications change with each batch and due to incoming and outgoing volumes the certifications change frequently, our range is fully specified and manufactured to current Australian standards. Through our wide range of bolting we stock almost all finishes, zinc plate, galvanised, stainless etc and most tensile grades. We stock a full range of varying strengths including mild steel, high tensile and super high tensile bolts ranging from nylon bolting for electrical environments through to 12.9 grade high tensile for extreme engineering or automotive based applications.
You can also find further details on our bolting range in our scrooz fasteners article page, there is plenty of reference material including thread charts for all diameters metric to imperial, how bolts are made, spanner size charts, what bolts head markings mean and the major difference between each type and whether you should be using mild steel bolts or opting for the high tensile bolts dependant on your application. If you have any queries at all don't hesitate to get in contact with us for more information, all our staff are fastener experts in nut and bolted connections and can assist you with whatever queries you may have.
Please refer to above chart for coarse thread pitches for metric bolts and nuts, this is a general guide and some products may differ, this will be clearly stated on the product category page:
---