Raptr Self Tapping Concrete Screws
all categories in Concrete Screws and Screw Bolts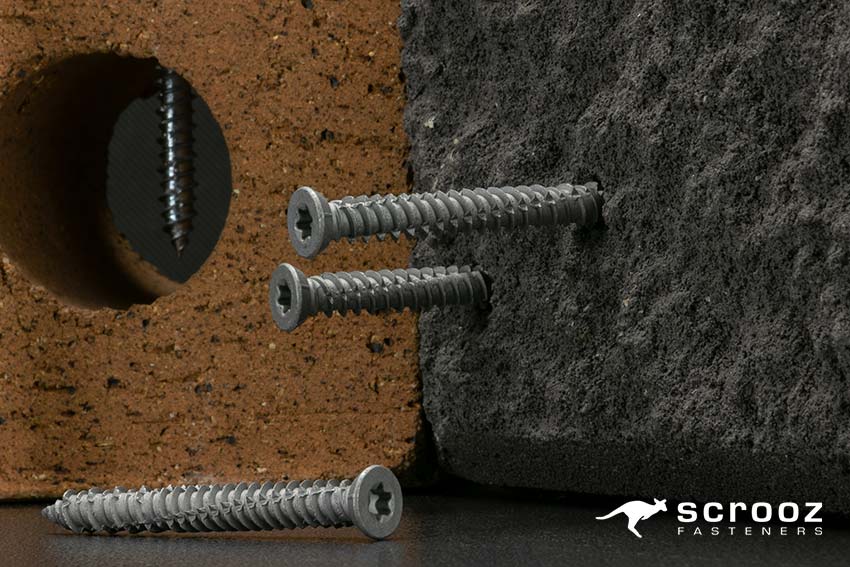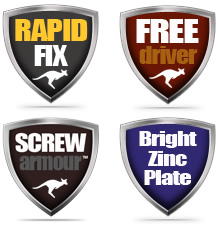 Raptr Self Tapping Concrete Screws Overview
Simply drill a 6mm hole through you're fixture into the concrete/brick and drive the screw in... that's it.
Raptr screws are revolutionary non-expanding fixings designed specifically for fast fixing direct to concrete, brick, block and general masonry without any plugs or sleeves. They are the latest step forward in plugless technology and are designed and manufactured solely by Scrooz from engineered high strength steel using our unique self tapping rifled thread form and cutting tooth design along with our proprietary case hardening processes. They are a superfast and efficient fixing and work by cutting they're own thread into the masonry and concrete on driving, removal is no problem either, just unscrew them. They're strong too, with a working load of 120kg and max load of 360kg.
Our high performance Raptr's are a more cost effective replacement and twice as fast to install than the more traditional expansion type anchor fixings and are perfect for hollow concrete bricks and blocks where traditional fixings won't hold. Normal expansion fixings only grip at the expanded end but Raptr's grip over their full circumference and their full length giving a large contact area in the concrete or masonry, providing a simple, high strength fireproof fixing, with just a small drill hole.
Raptr Self Tapping Concrete Screws Features:
Rapid fix straight through timber into the masonry or concrete.
Easily and rapidly installed by drilling a 6mm hole and driving the anchor in using power screwdrivers and impact drivers.
Lengths range from 50 to 200mm and all Raptr's are 7.5mm diameter with a Torx 30 drive.
1 free bit supplied in every pack/box.
Raptr's can also be used in timber as a woodscrew fixing or screw.
Datasheet available for tech info and load data.

Super versatile, fixes anything to anything including rapid fixing of
Structural partitions and framing
Windows and door frames
Battens and timber sections
Brackets and assemblies
Tracks and channels
Electrical, ducting and building services
Signage
See them in action :
Ordering Tips :

Choose standard Raptr, the Bright Zinc Plate finish is for internal use. It offers moderate corrosion protection and is fine for area's unlikely to get wet or damp or in untreated timber.

Choose Raptr Plus with Screw Armour Ceramic anti-corrosion coating for external or internal use, treated timbers or likely chemical contact. It's a high performance 8 stage process lasting 6 times longer than standard galvanising. Download the datasheet for more info.

Thread cutting anchors and screws rely on clean, correctly sized drill holes so use a new or unworn drill bit where possible.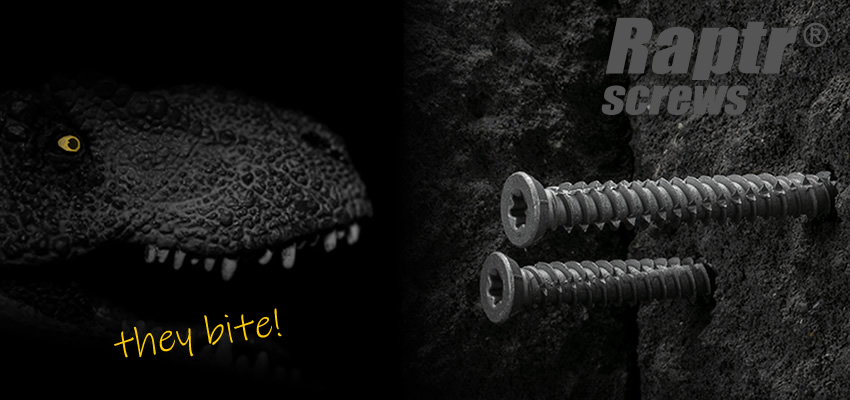 ---