Diamond Blades Continuous Rim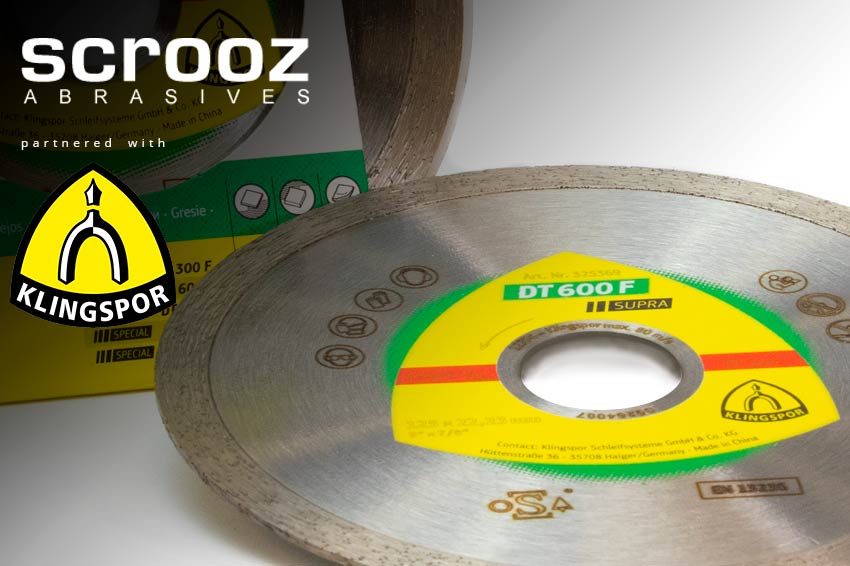 Continuous Rim Saw Blades
Klingspor Supra DT 600F diamond blades are high performance professional cutting blades designed to give accurate clean cuts in tiles, stoneware and general ceramics with minimal or no chipping, can be used wet or dry.
The fast cut continuous rim design gives precise, clean edges, particularly when used with wet cut systems.
Fits all standard grinders and conforms to European Safety Standard EN 13236 and strict oSa guidelines. .
What materials can I use them on
Tiles and ceramics
Natural stone
Granite
Roof tiles
Masonry/brickwork
Where do I use them
Klingspor Diamond Continuous Rim Cutting Blades are designed for professional use where a clean, precise, chip free cut is required. Mostly used for cutting tiles, masonry and brickwork, natural stone, roofing tiles or any softer type masonry substrate.
Get The Tech

Who is Klingspor
Klingspor is a market leading German manufacturer of high performance coated abrasives and cutting and grinding discs with a enviable global reputation for superb high end professional quality products. Klingspor has manufacturing plants and offices worldwide and technical and product support is available Australia wide if required.
---