Masonry Drill Bits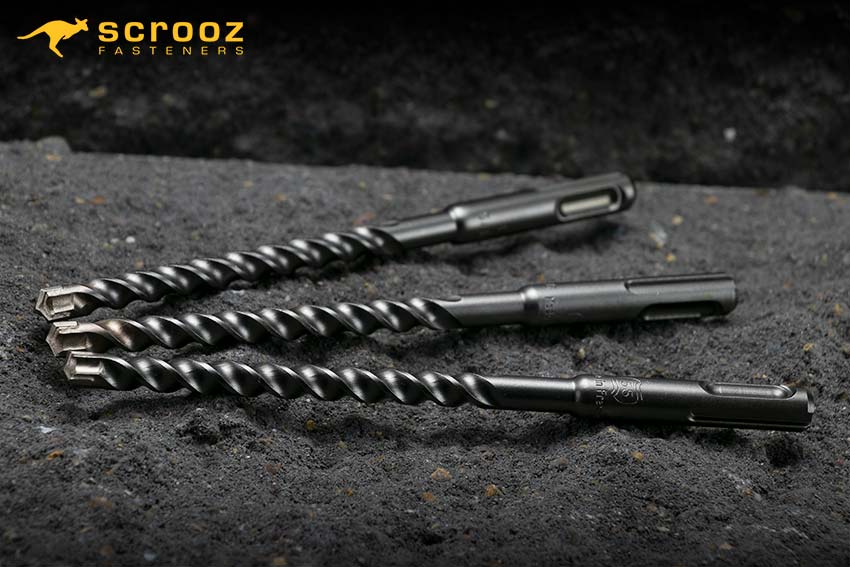 Masonry Drill Bit Overview
In this category you will find our range of drill bits for masonry. Our masonry drill bits are exceptionally popular as they pair with all our concrete fasteners.
Masonry drill bits are, as you imagine, drill bits for masonry. Anytime you need to drill a hole into any type of masonry substrate, a form of masonry drill bit will be required. There are many types and styles of these drills but the two most common, certainly that we sell, are the SDS Plus drill bits, and straight shank rotary drill bits. Masonry drill bits are a variation on the twist drill bit but designed for concrete and masonry type products.
They are generally manufactured with a spiral formed steel shaft and then a tungsten carbide cutting point or drill tip is bonded onto the end. By masonry we refer to all masonry type substrates, this includes: concrete, brick, stone, block, rock, etc
The quality of a tungsten carbide tip can be determined firstly by how wide or how much tungsten is brazed onto the tip and also how well the tip is bonded onto the drill bit. You can identify these tips by the yellowish colour, loosely speaking, the more tungsten brazed onto the drill the better the drill bit will perform.
Types of Masonry Drill Bit:
Masonry Rotary Drills


These are our range of standard rotary masonry drill bits, these are a universal fittings the same as a standard hss or twist drill and will fit into any rotary drill.
They are designed purely to spin or drill into the masonry substrates and consequently will produce an accurate, precise, perfect hole every time. Manufactured with hardened steel shanks and tungsten tips, they also have deep spiral flutes for optimal dust clearance. Perfect for anyone who does not own a hammer drill, needs to drill few holes or when the application arises that you may have to drill into soft substrates such as blockwork, soft brick or soft stone. These are compatible with any rotary style battery or corded electric drills.
For more specific information please see the Masonry rotary drills section

SDS Plus Drill Bit


These are our range of SDS Plus Masonry Drills, these are designed to be used on conjunction with an SDS hammer drill. This range is the most popular as generally speaking, anytime a particular job or trade is required to drill multiple holes, a hammer drill will be close by.
An SDS drill bit is the fastest way to drill into solid concrete and other masonry types. The rotary hammer drill works by using two functions, not only does it spin in order to drill the hole, it will also hammer or chisel away at the substrate. Making this type of drilling the fastest on the market and the best suited to tough substrates like solid concrete, stone, rock, stubborn brick and other masonry substrates etc.
There are though some downsides, when drilling into soft blockwork or brick, a hammer drill is not always best. They are quite aggressive and can cause soft block or brick to blow out thus causing oversized holes. They are most often used in solid concrete drilling.
All our SDS drills are manufactured in Switzerland, compatible with any SDS chuck fitting and have YG8 grade tungsten carbide drill tips for optimum life and precision. They also have rolled double spiral flutes for greater dust extraction.
See the SDS drill bit page for more specific information.
Drill Bits Masonry In This Section:
We stock an extensive range of masonry drills ranging from 4mm through to 20mm, if you are unsure of which drill bit will fit your tools, please contact us directly or you can find more information on each specific category page below:
Select a category using the filter system
Use the image infographic menu
Use the top level menus
Use the links down below..
---