Sanding Discs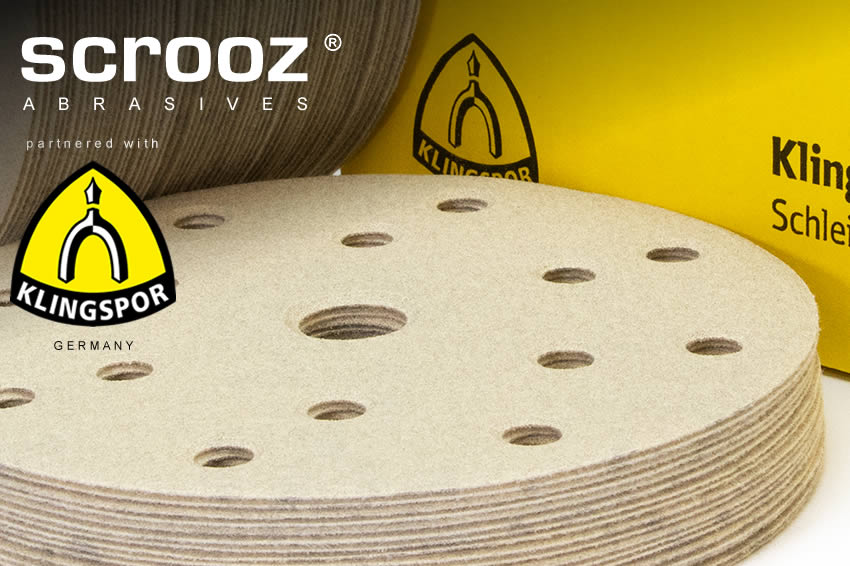 Sanding Discs by Klingspor
Klingspor sanding discs are well known globally as the some of the best performing discs in the world, these high performance European manufactured long life discs have unmatched tear resistance, flexible design and high material removal rate along with a full surface hook and loop backing to keep the discs flat and firmly in position, fits all common random orbital sanders, sanding tools and backing pads.
The combination of grit, resin bonded aluminium oxide semi-open coating and grinding active fillers reduces sanding disc surface clogging significantly, ensuring ease of use and a premium surface finish. Klingspor discs also have the GLS 47 hole pattern with 16 holes vs the standard 8 for extreme dust removal, perfect for use with vacuum extraction systems. The GLS 47, 16 hole pattern consists of 14 holes at 9mm diameters surrounding a central hole at 17mm. This hole pattern is extremely well tested and is the highest performer when attributing across material removal and life length of the disc. Available in grits from 40 to 600 grit in trade boxes of 100 or save big with our bulk cartons with our 400 disc packs.
This full range of sandpaper abrasive discs is manufactured in Klingspors Poland plant, designed and engineered in Klingspors facility in Germany. If you're looking for high end paper backed sanding discs that work faster, give a better finish and last longer than any competitor, while still at great prices, look no further than Klingspor at Scrooz.
What do they Sand
Metals
Wood and wood-based materials
Paint / Varnish / Filler
Steel
Plastic
Stainless steel
Glass
Aluminium
Titanium
Leather
Mineral-based materials
Where do I use Them
Klingspor sanding discs are designed for with professional use with random orbital sanders and rotary sanders in construction, engineering, manufacturing, auto and maintenance industries for general sanding of painted surfaces, metal, wood, varnish, fillers, plastics and most materials.
Watch
Sanding Discs Tech Docs
40 Grit - 120 Grit - Klingspor PS 33 CK

150 Grit - 600 Grit - Klingspor PS 33 BK

Who is Klingspor
Klingspor is a market leading German manufacturer of high performance coated abrasives and cutting and grinding discs with an enviable global reputation for superb high end professional quality products. Not only are they one of the top 5 abrasives manufacturers on the planet, they still manufacture in Europe across any one of their 4 mega factories. They collectively manufacture nearly 500,000 abrasive discs per day, which gives us and you piece of mind, knowing that the quality will be un-matched. Klingspor has more than 36 manufacturing plants and offices worldwide with technical and product support available locally in Australia wide required.
---