Razr Decking Screws Pro Stainless
all categories in Decking Screws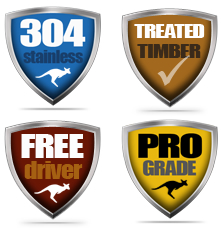 Razr Deck Pro Decking Screw Features
The BEST performing decking screws we have to offer within our range, Razr deck Pro Decking Screws are premium screw, engineered with standard shanks but small heads. They are designed to self drill and self embed into timber decking boards such as merbau and are equipped with every feature possible on a stainless steel decking screw to improve not only the strength and quality of the fix but also the speed in which you can install while offering a high quality visual appearance.
The Razr Deck Pro range is a high performance premium solution comprising high quality corrosion resistant fasteners with strong standard shanks but reduced head diameters, designed for high strength fixing of deck boards to hard or softwood joists for customers requiring a neat, unobtrusive long lasting professional finish.
Overview:
Self drills and countersinks into most hardwood boards (we still recommend pre-drilling the ends of boards to prevent potential splitting and some tougher hardwood species boards such as ironbark etc.)
Self embedding head with minimal burring or splintering
Square rifled thread cuts deep into the timber to provide increased deck lift resistance and significantly higher load distribution throughout the board compared to cylindrical threaded screws
Slimline SQ1 head with oversized shank for an unobtrusive appealing visual finish while maintaining a high strength fix
Double extra sharp slash point to prevent 'walking' on start and reduce board splitting
Installs much faster than traditional decking screws due to a range of speed increasing features
High performance corrosion resistant 304 Grade A2 Stainless Steel

Head
Square No1 drive for high torque driving optimum drive bit connection and sleek slimline visuals once installed.
Double countersunk with self embedding ribs to reduce splintering and burring.
10g features 8mm (8g) diameter head with oversized high strength 5mm (10g) shank (can be used with an 8g auto adjustable CSK tool if required)
7g features 6.5mm (6g) diameter head with slimline 3.8mm (7g) shank. (can be used with an 8g auto adjustable CSK tool if required)
Square Thread / Shank
Up to 50% reduction in installation torque prevents driver cam out, driver recess damage and reduces potential snapping
Improved deck lift resistance when compared to traditional cylindrical threads
Decking board and joist load distribution is also improved when compared to traditional threads.
Faster installation compared to standard deck screws
Oversized shank provides greater load ratings where board movement may be present
Double Slash Point Tip
Extra deep sharpened tip to prevent any potential 'walking' or board damage when starting screws
Vastly improved chip removal during installation reduces board burning and aids the self drilling and countersinking operation
Double type 17 slash point promotes a much faster self drilling process compared to standard deck screws, to increase installation speed and reduce board splitting.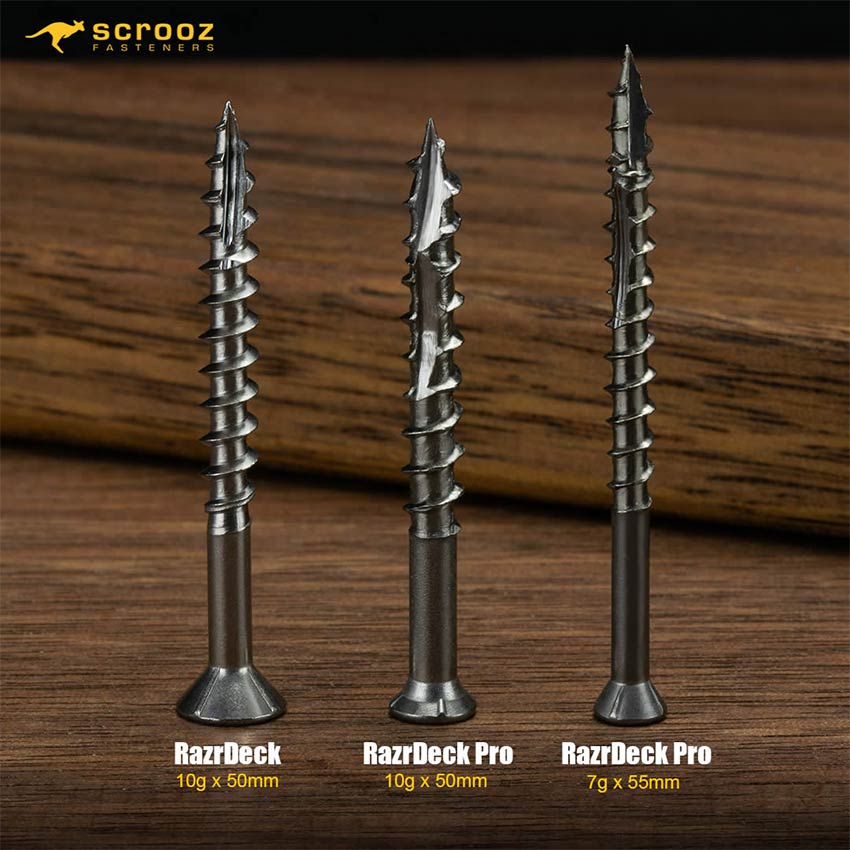 ---