Cutting discs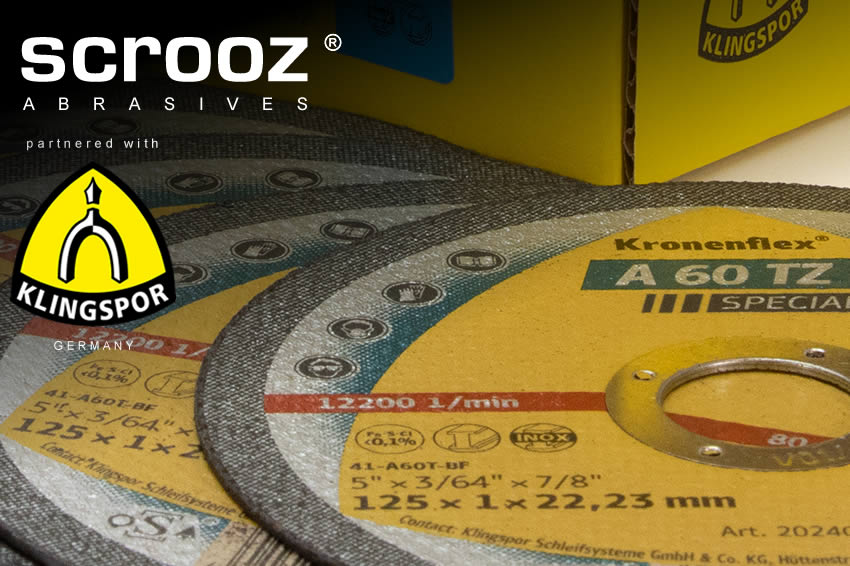 Klingspor Premium Cutting Discs
These thin 1mm cutting discs from Klingspor's Special Performance Section are the highest performing discs in Klingspor's cutting wheel range, they are designed for extreme use and are guaranteed to combine extremely long service life with fast and accurate cutting performance. These discs will last up to twice as long as inferior quality discs.
Kronenflex pro range cutting discs are iron, sulphur and chlorine free which means you get super fast cutting speeds with minimal tool pressure. They are made of a synthetic corundum/aluminium oxide abrasive grain allowing identical premium quality manufacture ensuring guaranteed consistent high performance of every disc. Klingspor cutting discs are tested and compliant with the oSa directives and safety standard EN 12413. If your looking for high end cutting discs that last longer than any competitor and still at great prices look no further than Klingspor at Scrooz.
What do they cut
Steel
Stainless Steel
Non Ferrous Metals
Cast Materials
Plastics, GRP's and man made materials
Where do I use them
Klingspor cutting discs are designed for professional use in construction, engineering, manufacturing, auto and maintenance industries for general cutting of sheet metal, bars, pipes, fabrications, assemblies and general metalwork.
Get The Tech

Who is Klingspor
Klingspor is a market leading German manufacturer of high performance coated abrasives and cutting and grinding discs with a enviable global reputation for superb high end professional quality products. Klingspor has manufacturing plants and offices worldwide and technical and product support is available Australia wide if required.
---