UniPlug Universal Plugs
all categories in Wall Plugs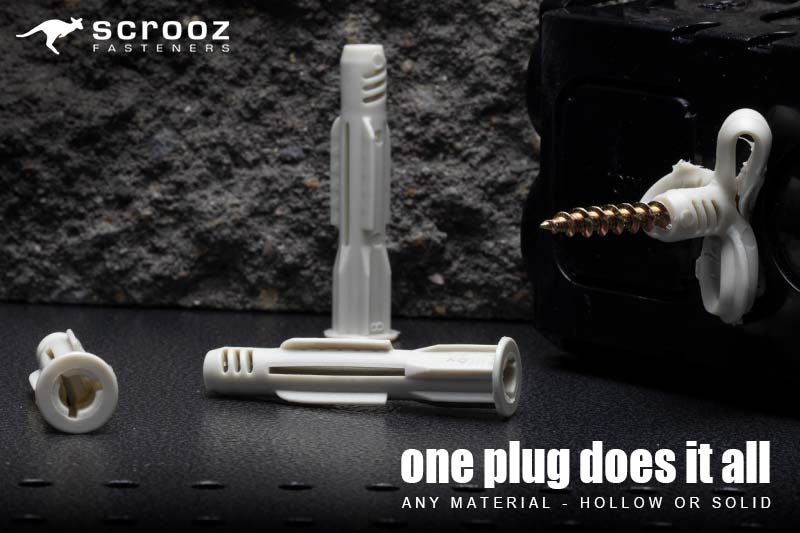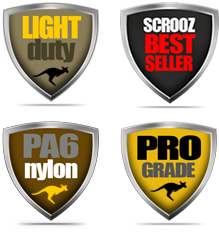 The only plug you'll ever need, use in any material, solid or hollow and as low as just $59/1000
Much stronger than the usual plastic plugs our high performance UniPlugs are manufactured from high density PA6 Nylon in Denmark for us using the latest in plug technology and materials. These universal plugs are designed for use in any material with any screw or fixing in brickwork, solid concrete, plasterboard, aerated concrete (hebel), timber, metal and plastics and they are designed to automatically 'knot' in cavities and behind boards if no solid fix can be found.
UniPlugs have collared heads to stop them falling in the drill hole or cavity plus high impact load and knock in protection to stop them bending and crushing when hammering in, deep double body flutes prevent spinning in the drill hole, supplied 'loose' in packs and trade boxes.
Now you don't need multiple plugs for different jobs..... one plug does it all.
Scrooz UniPlugs have the following features :
Collared head to prevent push though and provide knock in assistance.
Self-centering screw design.
High grade PA6 polyamide nylon manufacture.
Designed for expansion on the total surface and length with knotting feature for any cavity where higher loads are required.
3 x deep external flutes to help prevent turning during tightening, particularly useful when fixing to either aerated lightweight block or hebel sheet
Shields the screw along it's total length to provide protection against corrosion.
Long expansion design giving high load capacities in concrete and solid brick.
Load Capacities :
Typical loads in concrete are 6mm - 80kg, 8mm - 240kg and 10mm - 350kg.
Typical loads in plasterboard are 6mm - 15kg, 8mm - 17kg and 10mm - 32kg (with double board).
Tensile loads with the bigger of the screw diameter options. Includes safety factor of 3.
See them in action :

---