Stainless Steel Coach Screw Size Tables DIN571 Specification


Here's some technical information and a handy table covering basic sizes and dimensions for Stainless Steel Coach Screws to European Standard DIN5751, this are the preferred standard used in Australia as we don't have our own standard to cover these due to the relatively low sales volume here.
Stainless Steel Coach Screw Range

Hexagon head 316 marine grade coach screws for heavy duty general purpose construction fastening of timber to timber and timber to steel. Can also be used as medium duty expanding masonry fixings when used with nylon wallplugs or universal plugs such as Uniplug.
316 grade stainless steel is a much higher performance corrosion resistant alloy than the typical grade 304 and is essential if you are using these fasteners in very high corrosive areas such as around salt water or chlorinated pools or near coastal areas or if you want the best 'fit & forget' fasteners available for your project with a min 20+ year lifespan.
For wood to wood connections we recommend using a washer under the head to prevent pull-through of the head and crushing of the timber.
Manufactured and compliant to Euro Standards DIN 571.
Premium 316 marine grade stainless steel for maximum corrosion protection.
Bolt head for high torque applications allowing tightening with sockets, wrenches and spanners.
Tapered gimlet point for easy thread centering in predrilled holes.
Sold in convenient grab packs or heavily discounted trade boxes.
Here's our info table along with a snapshot tech download from Eur standard DIN571.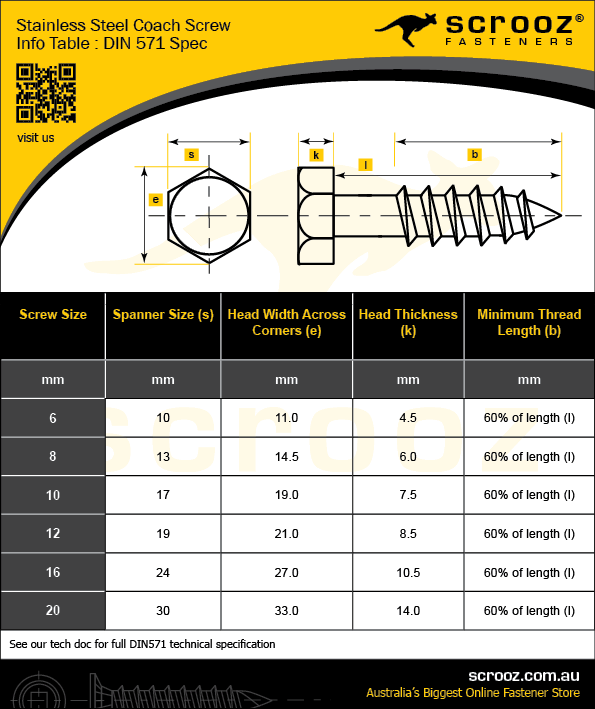 Stainless Steel Coach Screw DIN571 Standard Snapshot Document Download
This is a snapshot of Coach Screw sizes and tolerances detailed in the European Standard DIN 571:2010-11 Hexagon Head Wood Screws from the German Instiutute for Standardisation (Deutsches Institut Fur Normung), it specifies the dimensions and marking requirements for hexagon head screws for use in timber structures.
This Standard refers to Stainless Steel Coach Screws and is used in Australia as the Industry Standard as there is no current Australian Standard for Stainless Hex Head Wood Screws.