Domehead Rivet Size Chart


Rivets can be confusing, we get asked all the time how to size rivets - with all the different sizing systems suppliers use throughout the world its sometimes very tricky to figure out which size rivet you even need. Sometimes even we find it confusing.
We've made this handy chart so you can quickly and easily see which size rivet you need
Simply take the thickness of the 2 substrates your trying to rivet together

Match them closely to the max grip range on the chart to find out which size you need
Dome head rivets are the most commonly used rivet for general assembly in construction, engineering, manufacturing and maintenance so generally speaking most companies would only use 1 to 2 sizes of rivets that they are comfortable using and know the # sizing codes. As soon as you step away from these commonly used sizes though it can sometimes be a pain to figure out which size you need.
There are also different types of rivets avallable such as countersunk, large flange etc, these all have slightly different grip ranges as the head takes up more or less of the total length of the rivet so please be aware that this chart is purely for dome head riveting. There are further charts in our blog section that relate to other head types
This chart covers the rivet number, eg #42 rivet, the rivets general size, the rivets max grip range and the drill size needed for installation.
You'll also notice that the diameter of the rivet does not effect the overall max grip range. So if you for instance have a diameter that is not listed here, if you match the overall length the max grip ranges on the chart will still apply
Domehead Rivet Chart: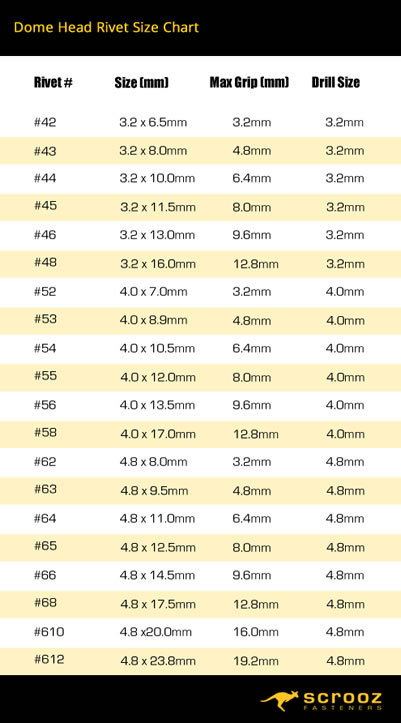 Now you know which size you'll need, you can find a full range of rivets in all different head and material styles, including more general information on our site here: Dome Head Rivets
Thanks for reading our latest blog entry
Best Regards,
The Scrooz Fasteners Team
---
Leave a comment