Coach Screws Size Tables For Zinc Plated and Hot Dipped Galvanised Screws


Here's some handy tables covering basic sizes and dimensions for Zinc plated and Hot Dipped Galvanised Coach Screws in Australia in accordance with Australian Standard AS:1393
Zinc Plated Coach Screw Range

Galvanised Coach Screw Range

Hexagon head 4.6 grade coach screws for heavy duty general purpose construction fastening of timber to timber and timber to steel. Can also be used as medium duty expanding masonry fixings when used with nylon wallplugs or universal plugs such as Uniplug.
Available in Zinc Plated finish with standard corrosion protection for internal use or Hot dipped galvanised for premium corrosion protection and suitable for external use in treated timber. For wood to wood connections we recommend using a washer under the head to prevent pull-through of the head and crushing of the timber.
Manufactured and compliant to Australian Standards AS1393.
Bolt head for high torque applications allowing tightening with sockets, wrenches and spanners.
Tapered gimlet point for easy thread centering in predrilled holes.
Sold in convenient grab packs or great value heavily discounted trade boxes.
Here's our info table along with a snapshot tech download from AS:1393, a full copy of the AS:1393 standard is also available to download from our coach screw category page here.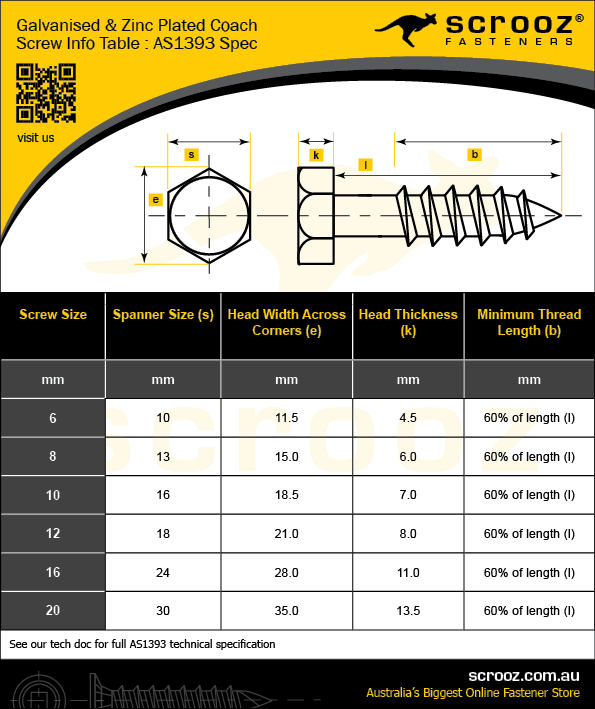 Coach Screws AS1393:1996 Australian Standard Snapshot Document Download
This is a snapshot of Coach Screw sizes and tolerances detailed in the Australian Standard AS/NZS 1393:1996 Coach Screws - Metric Series with ISO Hexagon Heads from Standards Australia, it specifies the dimensions and marking requirements for coach screws for use in timber structures in ISO preferred series diameters from 6mm to 20mm inclusive and lengths up to 200mm, and with ISO hexagon heads and either full body or reduced diameter (scant) shanks, and the material requirements for steel coach screws.
AS/NZS 1393:1996 Australian Standard refers to Zinc Plated and Hot Dipped Galvanised Coach Screws.

Click here to see our full coach screw range: