Screws
Bugle Screws
Bugle Head Screws
7g x 30mm Bugle Head Screws pack of 100

---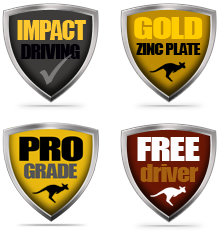 Bugle Head Screws Overview
Multi purpose bugle head screws from our high performance screw range for general purpose use in timber and wallplugs and used extensively for fixing of plasterboard and drywall. Features include rounded bugle countersunk heads to prevent damage to the paper skin and prevent pull through during fastening. Slim twinthread shank and a sharp easy start needle point for fast driving. Designed for fastening plasterboard, gyprock and drywall sheeting to timber and light guage steel.
These screws are referred to as many different names and its often confusing, they are frequently called - bugle head screws, plasterboard screws, drywall screws, gyprock screws or sheeting screws. Although they are primarily designed for fastening plasterboard sheeting down, due to the huge amount manufactured they have become extremely economical and are now used as more as a multi purpose screw into timber and light steels than anything. You can effectively use bugle head screws in any application you would use a standard wood screw where a bugle style head is required.
Bugle head screws are exceptionally popular with electricians as they are primarily sold in electrical wholesalers as multi-purpose screws, the bugle head tends to grip better onto clips and small brackets due to the tapering of the head.
All bugle head screws are phillips No2 drive with a gold zinc plating for corrosion protection. Free driver supplied in all packs and trade boxes.
Bugle Head Screws Features
Great value cost effective screw solution with slim shanks and small heads for an unobtrusive fix.
Self piercing hardened needle points for fast start and accurate screw positioning .
High strength shanks designed for use with powerdrivers
Double helix twinthread form for extra grip and fast installation in timber.
All bugle head screws come with a free driver bit supplied in every box and pack.
Be The First To Review This Product!
Help other scrooz users shop smarter by writing reviews for products you have purchased.
---
We Also Recommend
---
More From This Category